INTERMISSION W.
A sound action for movers and traceurs
---
Sound action for traceurs, movers and dancers
Media:
Ufip
cymbals
Duration: 2 days - 2/3 hours per day
Idea and workshop by
Fabrizio Saìu
Supported by
Nòva
credits ph. by Ale Camoni / Sharing Training Milano
︎
Intermission workshop is a time of collective and individual research on the processes of sound organization and mixed techniques of movement in space (athletics, dance and parkour)through the use of the cymbal as a sound instrument and as a bodily prosthesis.
Past workshops: [2021] Attivisti della Danza (Firenze), A Corpo Vivo (Cagliari), Linea Festival (Corato), Nu Festival (Novara). [2022] Shared Training Torino, Sharing Training Milano, Peraspera Festival (Bologna), [2023] Periferico Festival (Modena), Base (Miano).
Sound Inspection by Fabrizio Saiu
25 July 2021 - Porto di Cagliari . Molo Dogana
A Corpo Vivo Festival
Special thanks to A CORPO VIVO FESTIVAL and Colettivo Ca
︎perfomers: Ivonne Bello, Fabrizio Saiu ︎videos by Marta Bellu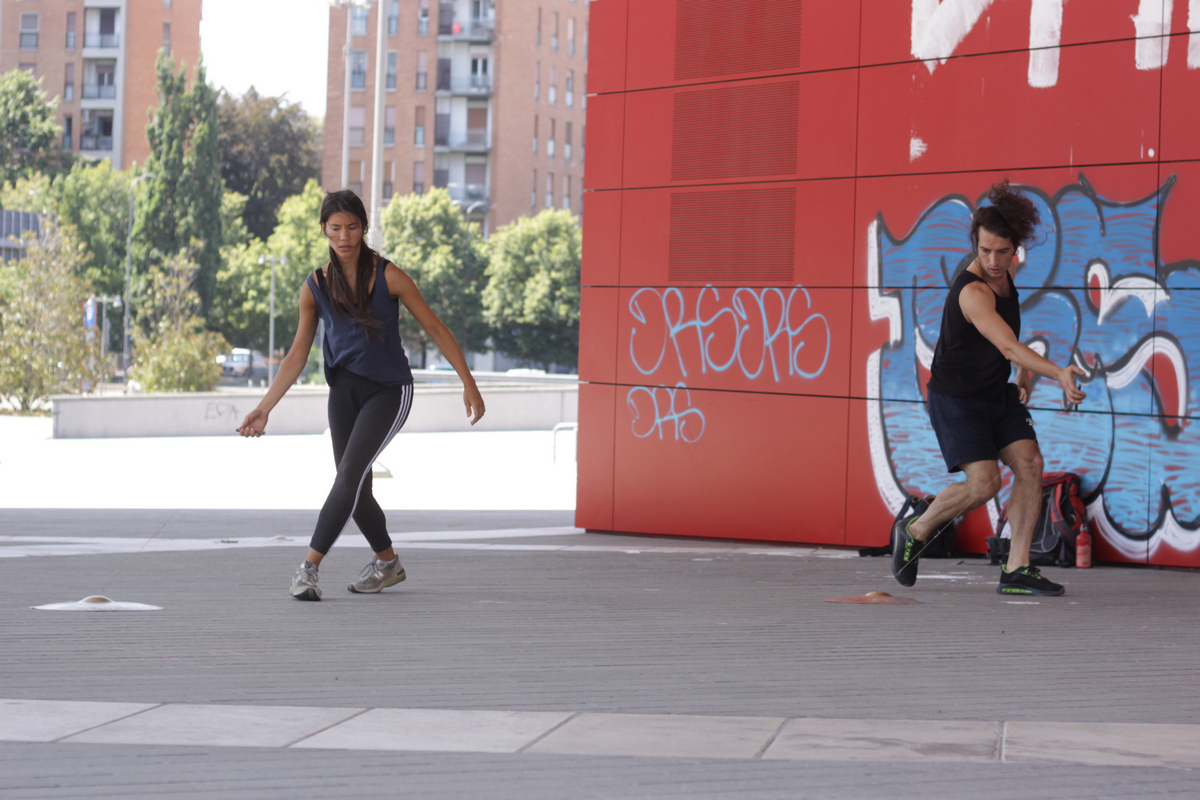 Starting from a question on the ways in which the city can be crossed and made to resonate, Fabrizio Saìu responds by articulating an experiment on the relationships
of interference and connection between
soundspacing
and
art du déplacement
Intermission is a collective performance and a multitude in motion. The multitude is made up of professional traceurs and participants prepared for the intervention through a workshop phase. The instruments used are percussion cymbals dragged on the ground by strings. The organisation of the sound, in bands and durations, is interwoven with the articulation of the bodies in the urban space, becoming a multitude in drift and producing a suspension of the functional life of the city in favour of an active and contemplative participation in reality Intermission spreads in a dispersed and decentralised way, organising itself in small groups, sometimes in single traceurs, who travel and explore the city, marking horizontal and vertical trajectories at varying speeds and intensities. The modification of the acoustic environment, the defunctionalization and reuse of urban structures, the interruption or modulation of the city's travel flows, are the ways and purposes of this practice.
The action is conducted in small groups made up of traceurs and free participants trained in the practice.It is an intervention conceived and realized starting from the urban and acoustic characteristics of the city and intervenes on the flows (human, animal and mechanical) that cross it.