INTERMISSION W.
A sound action for movers and traceurs
---
Sound action for traceurs, movers and dancers
Media:
Ufip
cymbals
Duration: 2 days - 2/3 hours per day
Idea and workshop by
Fabrizio Saìu
Supported by
Nòva
credits ph. by Ale Camoni / Sharing Training Milano
︎
Intermission workshop is a time of collective and individual research on the processes of sound organization and mixed techniques of movement in space (athletics, dance and parkour)through the use of the cymbal as a sound instrument and as a bodily prosthesis.
Past workshops: [2021] Attivisti della Danza (Firenze), A Corpo Vivo (Cagliari), Linea Festival (Corato), Nu Festival (Novara). [2022] Shared Training Torino, Sharing Training Milano, Peraspera Festival (Bologna), [2023] Periferico Festival (Modena), Base (Miano).
Sound Inspection by Fabrizio Saiu
25 July 2021 - Porto di Cagliari . Molo Dogana
A Corpo Vivo Festival
Special thanks to A CORPO VIVO FESTIVAL and Colettivo Ca
︎perfomers: Ivonne Bello, Fabrizio Saiu ︎videos by Marta Bellu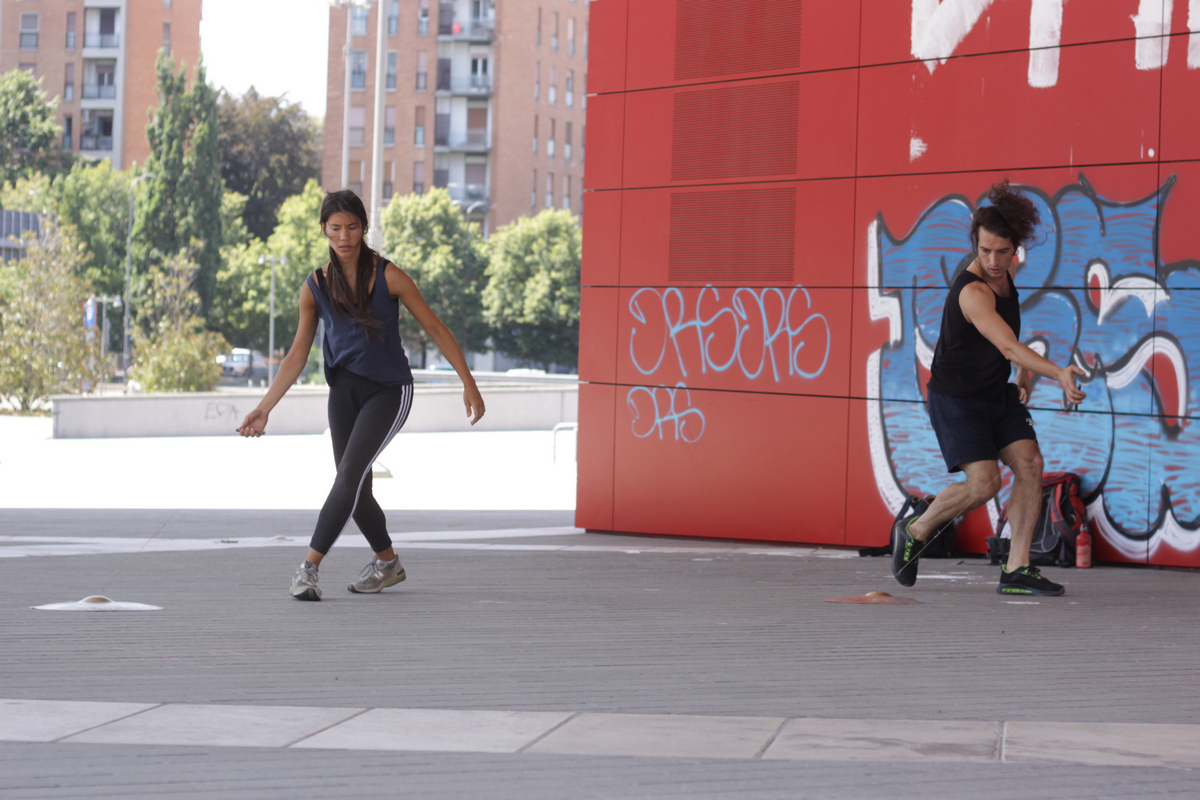 Starting from a question on the ways in which the city can be crossed and made to resonate, Fabrizio Saìu responds by articulating an experiment on the relationships
of interference and connection between
soundspacing
and
art du déplacement
Intermission is a collective performance and a multitude in motion. The multitude is made up of professional traceurs and participants prepared for the intervention through a workshop phase. The instruments used are percussion cymbals dragged on the ground by strings. The organisation of the sound, in bands and durations, is interwoven with the articulation of the bodies in the urban space, becoming a multitude in drift and producing a suspension of the functional life of the city in favour of an active and contemplative participation in reality Intermission spreads in a dispersed and decentralised way, organising itself in small groups, sometimes in single traceurs, who travel and explore the city, marking horizontal and vertical trajectories at varying speeds and intensities. The modification of the acoustic environment, the defunctionalization and reuse of urban structures, the interruption or modulation of the city's travel flows, are the ways and purposes of this practice.
The action is conducted in small groups made up of traceurs and free participants trained in the practice.It is an intervention conceived and realized starting from the urban and acoustic characteristics of the city and intervenes on the flows (human, animal and mechanical) that cross it.
PERIPATETICHE DELL'ASCOLTO
Exercises in deep listening and
collective sound composition
---
Sound exploration workshop
Partecipants: 20/25
Media: microphones + headphones + walking
Duration: 1 day - 2/3 hours
Idea and workshop by
Fabrizio Saìu
Credits ph Stefano Bonusi / BAO - Ground Music Festival 2023
︎
Peripatetic listening is a journey that combines the walking, microphonic shooting and listening in headphones, in a unique experience of exploring and discovery of the sound environment in relation to the different ways in which it is from time to timeinterpreted, traversed, played and recorded. The use of microphones and headphones as an instrument-prosthesisof the ear allow the explorers torevitalize their awareness about thepotential of sound amplification, crossingthe threshold of the audible and the boundaries between proximity and distance and experiencing the objective possibilities ofsound capture and fixation according to ashared approach.
At the same time, they also allow us to discover its limits by finding in active listening, without prostheses,a more global mode of bodily listening, in which hearing, touch and bodily movement constitute the occasion for a singular encounter with sound. Peripatetics of listening is a pleasurable and surprising opportunity to share both individual and collective activelistening practices, and to become acquainted with some of the most recent research that characterizes soundscapes studies bothfrom a theoretical and practical point of view. The meeting will include many exercises aimed at listening awareness, but also at the creation of traces, signals, and sound prints capable of entering into dialogue with the host environment. Being aware of the world means knowing how to contemplate and together implies an action placed between autobiography and biography.
Past workshops: [2017] Triennale (Milano), [2022] SuperPark (Parco dell'Adamello Brenta), [2023] BAO Ground Music Fetival (Cascate di Monticelli Brusati - BS), [2023] Cantieri Internazionali d'arte di Montepulciano (Riserva Naturale Pietraporciana - Chianciano Terme).
MECCANISMI ATLETICI E FORMA CONCERTO
---
Sound exploration workshop
Partecipants: 5-10 participants
Media: cymbals
Duration: 1 day - 2/3 hours
Idea and workshop by
Fabrizio Saìu
︎
Sharing focuses on the study and practice of the processes of live production of a concert for athlete-musicians and 30 percussion cymbals.
Athletic exercise and musical performance are practiced in their specificity and then relocated to a third-order practice that makes bodily use
in continuous transit between the athletic and the musical, the pivotal element for the realization of a performance in concert form.
Past workshops: [2019] Spettro (Brescia), [2023] Fattoria Vittadini Sharing Training (Milano).